Magnetic separator of non-magnetic metals (induction separator – eddy current separator)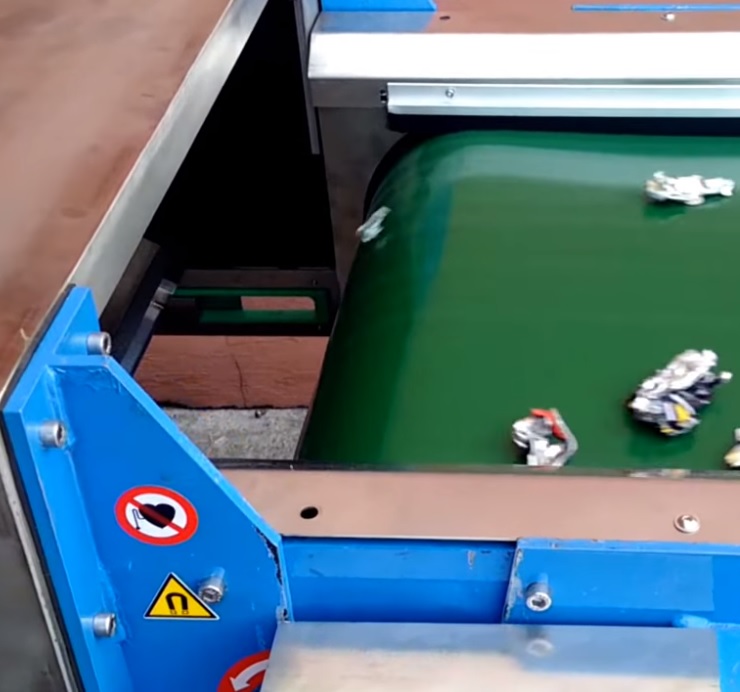 Magnetic separator of non-magnetic metals (induction separator – eddy current separator)
Do you need to separate non-magnetic metals from non-metal materials (plastics, paper, wood, glass, …)? If so, then the best solution consists in using so called "induction separator". This magnetic separator of non- magnetic metals (often mentioned as eddy current separator) enables meeting of separation tasks that could not be achieved otherwise when using standard magnetic separators.
Send us your written request regarding separator quotation
More detailed information
Induction separator is working on a principle of magnetic swirling streams. Always this deals with a set consisting of an induction magnetic cylinder and transporter into which the magnetic cylinder is inserted. Magnetic separation cylinder is equipped with the strongest neodymium magnets. Due to the fact the magnetic cylinder rotates with very high rounds per minute, so called swirling streams are induced. These swirling streams are capable of a temporary charging of non-magnetic metals with a magnetic charge that is identical with that formed by the induction cylinder. As a result of that, the metals are "put aside" of the magnetic cylinder. Non-metal material behavior against the swirling streams is inert, so they fall off the conveyor naturally. Separation cylinder is designed in a way that the magnetic core is covered with a highly resistant Kevlar coating.
Our eddy current separator is equipped with a well-elaborated distributor. Position of this distributor is easily adjustable in two directions, and due to that (and also due to adjustable conveyor belt speed induction cylinder rounds per minute), non-metal materials may be very easily separated from non-magnetic metals, fill this the separation task with a good quality.
In case of ferromagnetic metal occurrence in separated materials, the installation of this separator is conditioned by pre-installation of a standard magnetic separator, preventing thus occurrence of metal magnetic impurities. This separator (MSNK) does not serve to magnetic metal separation.
MSNK usage industrial areas
Eddy current separators find their application areas in most of the operations where there is a must of separating non-magnetic metals (aluminum, copper, brass, …) from non-metal materials (plastics, paper, wood,…).
Utilization areas:
Recycling industry
Waste liquidation
Liquidation of electronic devices
Glass industry
Other areas where this type of separation is required
Separation principle
Our eddy current separator distributes separated material into the two fractions (see the picture):
Non-magnetic metals (aluminum, copper, …)
Non-metal materials (plastics, paper, wood, glass, garbage, …)
We strongly recommend testing of the separation efficiency in materials supplied by you, using this separator that we have – for these purposes – available in our showroom. This way proper separator functioning is verified.  

This separator installation requires a pre-installation of a conventional magnetic separator (e. g. magnet to be installed above a conveyor belt), in order to prevent metal magnetic impurity occurrence. Also, vibration feeder is recommended to be pre-installed, in order to spread the material within the whole belt width and reduce its layer thickness to a minimum.
MSNK general technical specification
Magnetic equipment
Very strong NdFeB magnets
Load-bearing structure
We can supply the separator including its load-bearing structure. As a standard, the load-bearing structure is manufactured using iron square tubes, and it is designed in a way providing high stiffness and resistance against shakes and vibrations. It is important to provide that both shakes and vibrations of the machine as such, as well as those caused by other technologies are prevented because the magnetic cylinder rotates with a high speed and it is indispensable to balance the cylinder and entire machine perfectly, making it resistant against vibrations.
The structure contains adjustable legs (by the reason of the machine balancing).
Including silent blocks and other anti-vibration elements.
Structure surface treatment using a coat – RAL code according to customer preferences.
Induction magnetic cylinder polarization
 We manufacture separation induction cylinders in various dimensions, according to separation needs, and based on parameters of individual separated materials.
As a standard, we manufacture the cylinder with 18 poles and, if needed, also with 22 or 24 poles.
Controlling system
As a standard, our eddy current separator is equipped with controlling PLC system made by SIEMENS, disposing of a color touch display enabling:
Fluent revolutions per minute regulation of the separation induction magnetic cylinder (using a frequency changer).
Fluent regulation of the conveyor belt speed (using a frequency changer).
Possibility of the conveyor belt position loss signaling.
Possibility of signaling of the conveyor belt breaking.
Statistics of the device operation and possible defects.
Service inspection warnings.
Possibility of connecting of GSM module and remote administration of this system including, for example, sending of error messages and weekly reports to selected mobile phone or e-mail address.
As an option, additional programming of user buttons is possible. For example, cylinder and belt revolutions per minute may be pre-set according to separate materials – this means significant simplifying of the operator efforts.
Regulation of the revolutions per minute of the magnetic cylinder and conveyor belt
 Fluent regulation of the revolutions per minute of the separation cylinder and conveyor belt (the rpm´s are easily adjustable using the contact display) is essential to provide a quality induction separator setting according to a separated material parameters.
Distributor settings
 In order to achieve required separation results, distribution element must be set properly. The element ensures a proper separation of both of the fractions (the metal one and the non-metal one).
Using controlling elements, the distribution element may be adjusted comfortably in both vertical and horizontal directions.
MSNK standardly manufactured models and sizes:
From the dimensions point of view, we always adapt to customer requirements, especially in regard with the capacity requested.
Separation cylinder covering coat:
Magnetic cylinder is covered with highly resistant Kevlar coat. Due to that, magnetic cores are covered in a safe way.
Kevlar coat is highly resistant and very stiff. It is characterized by a long lifetime.
Safety elements:
Eddy current separator is equipped with safety STOP buttons located on both of the belt conveyor sides.
Engineering workmanship
All engineering workmanship operations are made on machines belonging to the own company plant, using own MAGSY CZ machine engineering technologies.
Component welds
They are performed according to requirements of technological standards valid in the area of stainless steel material welding. Demanding outgoing weld quality control warranties a high product outgoing quality.
Ask us – we will advise you!
Made-to-measure production is our strength.