Magnetic separator with telescopic grates MSV – Classic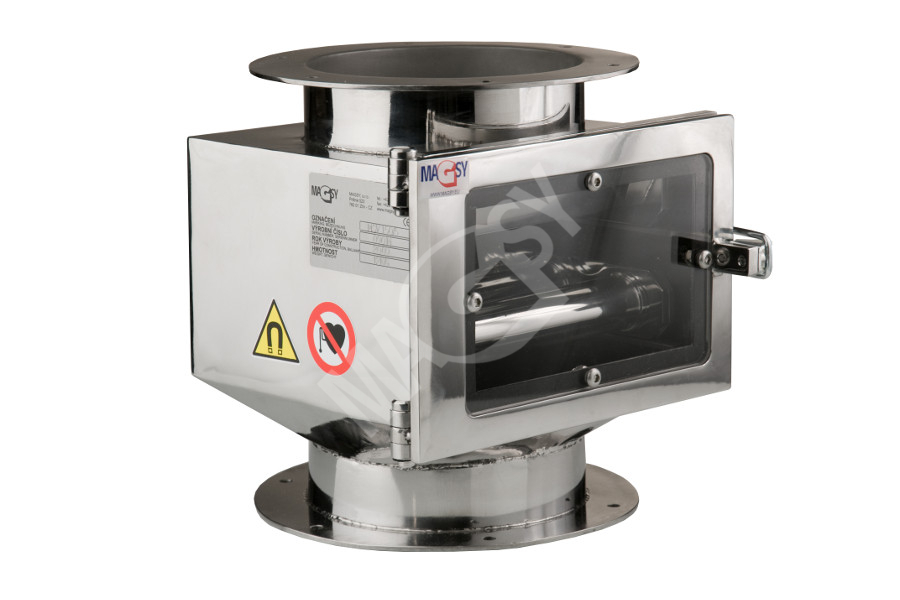 Magnetic separator with telescopic grates MSV – Classic
MST – Classic magnetic separator is the main and most widely used type of manually cleaned grate separator. So far it is utilized with loose (bulk) mixtures.
Size models and separator designs
MST-Classic is manufactured either to be connected to a circular pipe, or to join a square pipe.
Send us your written request regarding separator quotation
Příklady použití
More detailed information
MST-Classic – standardly manufactured models and sizes:
For a round pipeline with the diameters: 100; 150; 200; 300; 400 mm
For a square pipeline with the dimensions: 100×100; 150×150; 200×200; 300×300; 400×400 mm
If needed (untypical mating dimensions, insufficient construction height), MAGSY is ready to produce the MSV Classic in modified dimensions, according to instructions, per your order.
MSV – Classic main benefits:
Reliable separation – a labyrinth with two grate stages.
High separation quality – the strongest NdFeB magnets are used, and the magnetic force loss is reduced by an exact machining of the core covering pipe to the thickness of 0.6 mm at max.
Adjustable quality of the core magnetic equipment, on the levels I, – VI. –

 a proper separation task solution as a function on operational conditions and the separation task.
High level of the engineering workmanship – only best materials are used, very high engineering precision, resistance, durability, assembly readiness.
User-friendly cleaning system – the system of telescopic grates and cores, reduction of the working time losses and the number of operators needed.

Based on the magnetic separation task, i.e. either the technology protection or the medium product protection, and also according to the task operational conditions, the separator may be equipped (from a viewpoint of its magnetic output) by various magnetic core compositions, namely on all four standardized levels. This means that either the magnetic induction value is prioritized, or the tear-off force value needs to be preferred. According to these criteria, core compositions on the levels I. to VI. is selected.
MST-Classic grates and magnetic cores are independently telescopic. This system ensures the possibility of comfortable and good grate cleaning from Fe impurities. From the working safety point of view, during the grate cleaning, however, one must be very careful on pulled-out grates and cores handling because careless manipulation = danger of injury of hand fingers.
Note
For a further facilitating the magnetic grate cleaning process and, especially, to improve the working safety during MST-Classic grate cleaning, MAGSY manufactures special cleaning preparations..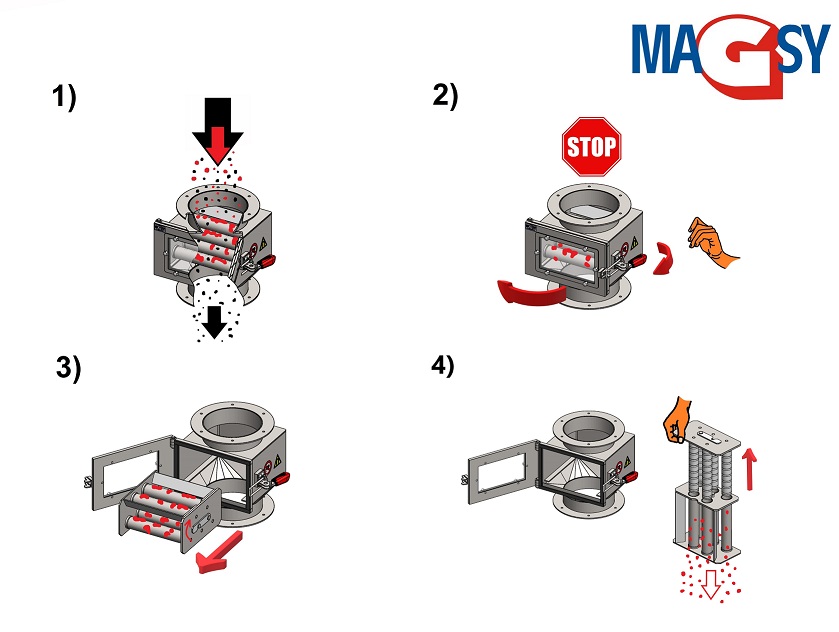 MST-Classic general technical specification
Magnetic equipment
Very strong NdFeB magnets located in covering pipes.
Circular magnet with the outer Ø= 29 mm, a pipe with the outer Ø= 31-32 mm according to the magnetic output.
Magnetic material temperature resistance
As a standard: up to 80 ˚C
As an option : up to 150 ˚C
Magnetic output (power)
by a selection from the 4 levels, I – VI, according to the separation task and operational conditions
Grate system
stationary, telescopic grates and telescopic magnetic cores
Dropping labyrinth
magnetic grates on at least two stages
Case and grate material
As a standard: stainless steel 1.4301 / AISI 304.
As an option: stainless steel 1.4404 / AISI 316L (for acidic pH values)
Door material
As a standard: stainless steel sheet metal, the quality corresponds to the case
As an option: PMMA plexi-glass (poly-methyl-methacrylate)
Door sealing material
As a standard: rubber sealing in the quality corresponding to the separation task and operational conditions
As an option: food industry sealing in a conformity in compliance with the food industry
All materials are quality-certified according to EU norms.
Surface treatment
Outer case surface and grate frame: machine blasting by ceramics mixture
Outer grate pipe surface: machine blasting or polishing as an option
Case inner surfaces are blasted by machine. In case the application is considered in the food industry, the corners and welds inside of the case are machined according to food industry standards (as an option).
Connecting elements
Using a flange as a standard, according to the appropriate pipeline dimension
Or optionally, using JACOB clips, according to an appropriate pipeline dimension
Counter-flanges are parts of the scope of supply. Other connecting elements (e. g. "smooth pipe") are available as an option as they do not belong to standard accessories.
Engineering operations
All engineering operations are made using the machines of MAGSY CZ own production, utilizing own engineering technologies.
Component welds
They are made according to requirements of valid technological norms respective to the stainless steel material area. Due to a strict outgoing weld inspection, high output product quality is guaranteed.
MSV cleaning preparations
Regarding their separators, MAGSY, as the separator manufacturer, is strongly focused on the facilitating of the cleaning techniques and improving of the cleaning comfort. To simplify the own process of manual separator cleaning, MAGSY manufactures the cleaning preparations that are offered as additional, optional separator equipment.
MST-Classic cleaning preparation serves to simplify the cleaning process as such, increase the cleaning comfort and improve the working safety on magnetic grate handling. The material is: stainless steel sheet metal 1.4301

Cleaning preparation working instructions:
Fasten the grate with cores into the holder situated on the cleaning preparation (No.1)
After the clip (No.2) has been released, the cores are pulled out of the grate  (No.3)
Separated cores pulled out of the grate are stored into a self-contained compartment (No.4) where they are covered against own damaging and pollution and, at the same time, they are ensured from an injury point of view.
An independent, empty grate is then without the magnetic field. Fe impurities fall away from it freely to the waste compartment. Residual impurities may be wiped-off by a brush quite easily.
Cleaning preparation using:
Cleaning comfort increase
Working safety improvement
Magnetic core resistance increase
MAGSY recommends using the cleaning preparations to clean separators.