Magnetic separator with telescopic grates MSV – EKO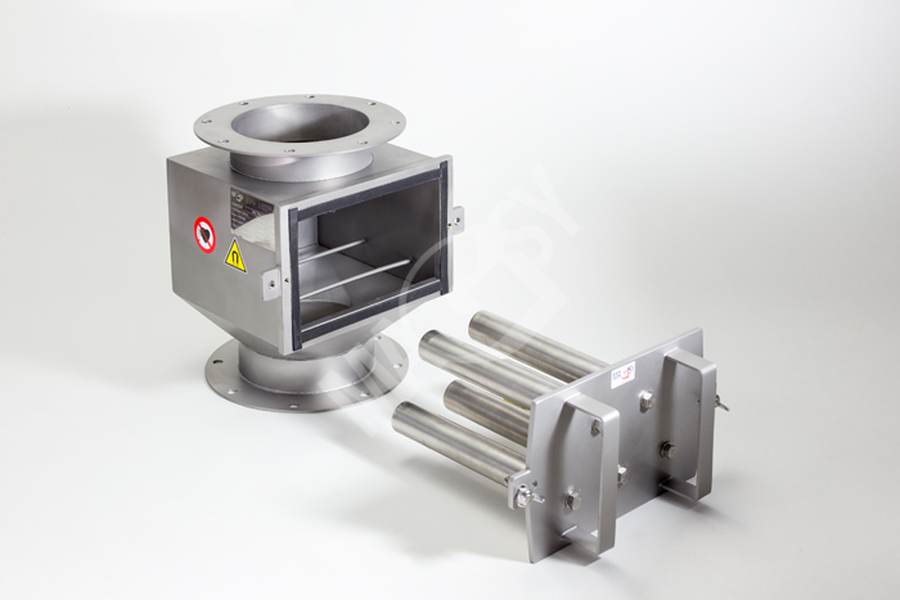 Magnetic separator with telescopic grates MSV – EKO
Magnetic separator MST – EKO represents the simplest version of MST grate separators. In its design, MST – EKO is based on the MST – Classic version, however, its construction is rather simplified. Although the magnetic grate includes a dropping labyrinth, the grate is formed by closed rods only, not by pipes with cores capable of pulling out.
MSV – EKO is especially designed for less demanding customers not having strict requirements on a comfort magnetic grate cleaning system. MST – EKO price level corresponds to the simplified design and is the lowest of all of the MST groups.
Send us your written request regarding separator quotation
More detailed information
Separator size models and design:
MST-EKO is manufactured for connections within round or square pipelines.
As a standard, MSV – EKO is manufactured only in the models with the following dimensions:
For the round pipelines with the diameters: from 100 mm to 200 mm
MST-EKO is manufactured only on one magnetic equipment level, namely with the magnetic output: magnetic inductions 8900 +/- 500 G and 108 +/-10 N, as measured on the magnetic rod surface.
MSV – EKO separator main benefits:
Reliable separation – two-level grate labyrinth
High separation quality – using of the strongest NdFeB magnets, and lowering of the magnetic force loss is achieved by a precise core covering rod machining, to the thickness of 0.6 mm at maximum.
High engineering processing level – the best materials are used, there is a high precision of the engineering workmanship, resistance, durability and assembling readiness
Low-cost price category with regard to the simple design.
A disadvantage consist in the non-comfort method of the separator magnetic rod cleaning from Fe impurities.
MST-EKO separation component is formed by closed magnetic rods that are attached to front, load-bearing separator case wall.  As a t, separator grate slides from the case but the cores cannot be moved out independently.
Magnetic grate cleaning can be done only manually, by gradual cleaning (retracting) of Fe impurities from the magnetic rod surface, overcoming the magnetic force resistance.
This is a less comfortable cleaning technique compared to MST-Classic or, especially, to the system used by MST-UP. During the grate cleaning, extraordinary attention must be paid also to the working safety.  Careless manipulation means a danger of hand finger injury.
MSV-EKO general technical specification
Magnetic equipment
Very strong NdFeB magnets, placed in closed magnetic rods.
Magnet cylinder Ø= 29 mm, outer rod Ø= 31 mm
Magnetic material temperature resistance: as a standard, up to 80 ˚C only
Magnetic output
The only level is 8900 +/-500 G // 108 +/-10 N, as measured on the rod surface
Grate system
Stationary pulling-out grate, fixed magnetic cores
Dropping labyrinth
magnetic grate on two levels
Case and grate material
As a standard, stainless steel 1.4301 / AISI 304 only
Door material
As a standard, stainless steel sheet metal only, in the quality given by the case
Case sealing material
As a standard: rubber sealing in the quality given by the separation task and operational conditions
As an option: food industry sealing in compliance with food industry standards
All materials are quality-certified according to EU norms.
Surface treatment
Outer case surfaces: machine blasting using a ceramics mixture
Outer rod surface: without any treatment, or polished as an option.
Inner case surfaces are machine blasted. For the food industry purposes, corners and welds inside of the case are machined according to food industry standards (as an option).
Connection elements
Only with a flange as a standard. Counter-flanges are parts of the product.
Engineering workmanship
All engineering workmanship operations are carried out on machines belonging to the company production facility, using own MAGSY CZ engineering technologies.
Component welds
They are performed according to requirements of valid technological norms dealing with stainless steel material welding. Demanding outgoing weld quality control guarantees a high outgoing production quality.
Ask us – we will advise you!
Made-to-measure production is our strength.