Rotational magnetic separator MSVR – EKO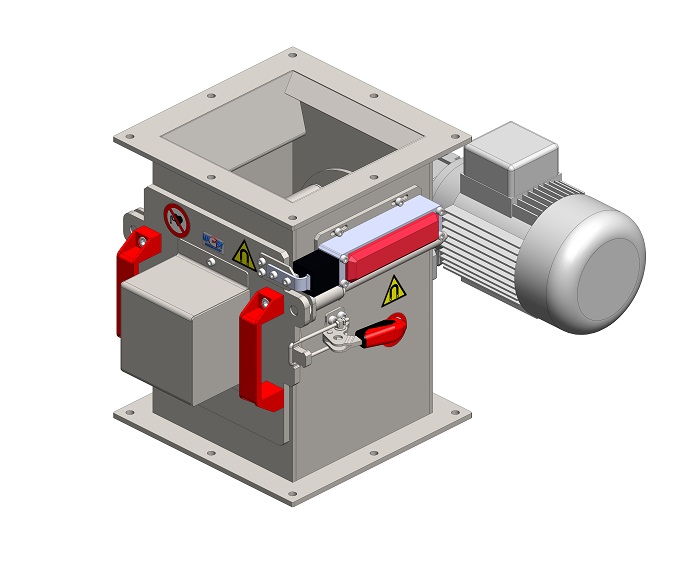 Rotational magnetic separator MSVR – EKO
MSVR ECO magnetic separator is a simplified variant of the standard, manually cleaned rotational magnetic separator. The device meets its magnetic separation function with the same reliability as other rotational magnetic separators, just using a different cleaning technique. It is needed there to pay an extraordinary attention to magnetic core handling that is removed from the covering stainless steel component during the cleaning operation.
Send us your written request regarding separator quotation
More detailed information
Size models and the separator design
As a standard, MSVR ECO is manufactured for connecting to the square pipeline. In case the installation is performed with the round pipeline, suitable transition elements from the square to round pipeline should be supplied. By request, we would like to deliver you these elements.
MSVR ECO currently manufactured models and sizes
For the round pipelines with the dimensions: 200×200; 250×250 mm
If required so by customers (untypical mating dimensions, insufficient construction height), we will produce for you the MSVR ECO dimensionally modified according to your demands, as a custom-made item.
MSVR EKO separator main benefits
Reliable separation – due to the magnetic core rotation, perfect dropping labyrinth is created
High separation level – using of the strongest NdFeB magnets and reduction of the magnetic force loss by a precise machining of the magnetic core covering pipe, to the smallest possible thickness
High engineering workmanship level – the best materials are used, there is a high engineering workmanship precision, resistance, durability, assembling readiness
The simplest cleaning system from the user´s point of view – the system of telescopic magnetic cores, in a combination with stainless steel covering pipes, guarantees very fast and thorough cleaning process
According to requested magnetic separation level, technology protection or product protection, magnetic core may be equipped with various magnetic circuit assemblies, namely on the two standardized level. Either there is preferred the magnetic induction value, or the tear-off force value need to be prioritized. According to these criteria,
 core composition on the levels I. to II. is selected.
Separator safety and quality information
We care about the high quality of our magnetic separators
MSVR EKO general technical specification
Magnetic equipment
Very strong NdFeB magnets situated in the covering pipes
Inter-circular magnet outer Ø= 29 mm, outer pipe Ø= 31-32 mm according to required magnetic output.
Magnetic material temperature resistance
As a standard: up to 80 ˚C
As an option: up to 150 ˚C
Magnetic output
by selection of the 2 levels, I – II according to the separation task and operational conditions
Grate system
rotational, pulling-out cores formed by stainless steel covering pipes; the whole component is removable from the magnetic separator body to be comfortably and completely cleaned
Dropping labyrinth
due to the rotating component, maximum dropping labyrinth is ensured
Case and magnetic component material
as a standard: stainless steel 1.4301 / AISI 304
as an option: stainless steel 1.4404 / AISI 316L (for acidic pH environments)
Door sealing material
as a standard: rubber sealing in a quality corresponding to the separation task and operational conditions
as an option: food industry sealing conforming to the food industry requirements
All materials are quality-certified according to EU norms.
Surface treatment
Outer case surfaces and grate frame: machine-blasted by a ceramics mixture
Outer grate pipe surface: machine-blasted, or polished as an option
Inner case surfaces are machine-blasted, in case of the food industry the corners and welds inside of the case are machined according to requirements of the food industry norms (as an option)
Connecting elements
As a standard: flange according to an appropriate pipeline dimension
Counter-flanges are parts of the product supply
Engineering workmanship
Quality and precise engineering workmanship is guaranteed
All engineering operations are carried out using machines of the own production facility and own MAGSY CZ engineering technology
Component welds
They are performed according to requirements of valid technological norms dealing with stainless steel material welding. Demanding outgoing weld quality control guarantees a high outgoing production quality.