Covered magnetic grate MRZ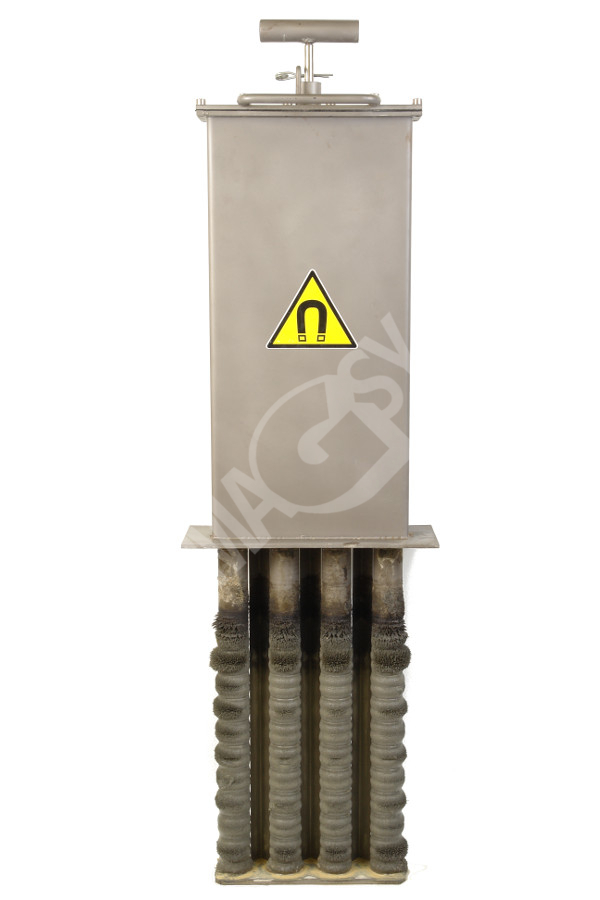 Covered magnetic grate MRZ
As an improved option of telescopic magnetic grates, covered grates were introduced that could be used for both the magnetic separation from loose materials, and from loose mixtures. Due to their design, they may be used especially in humid environments where they are very popular. Mostly these liquids with a low density, e.g. various de-greasing and cooling emulsions, lubricants, oils, etc. The innovation consists in a sophisticated cleaning process already known in e.g. magnetic separators, flow-type ones, MF due to which there is guaranteed a maximum magnetic core resistance in relation to surrounding humidity. By an action of a very strong magnetic field, even very fine metal impurities are caught, even in order of microns.
Send us your written request regarding separator quotation
More detailed information
Covered magnetic grates as such are manufactured by the company MAGSY as a custom-made production mainly, based on dimensional requirements stipulated by a customer.
Utilization areas
Machine engineering
Ceramics industry
Processing industry
Liquid cooling systems
Paper industry
Utilization area in industrial operations:
Separation aimed at technological protection in operations

Installation of the covered magnetic grate may prevent damaging of subsequent technological units where there are caught magnetic metal impurities on the covered magnetic grate that are associated with the risk of damaging such technologies. For example, cooling channels in cooled tools are devalued in cases when metal impurities enter such channels. Sometimes the metal impurities are as small as they start depositing in a channel, and the process continues until the channel becomes fully clogged. Sieves and filtration clothes may be ineffective in some cases because these are metal impurities with typical size of microns; the impurities are reliably caught by the separator whereas they pass through the sieves and filtration clothes.

Separation aimed at product cleanliness

A presence of metal impurities in cooling emulsions may cause decreasing of the machining quality (scratches, notches). Covered grate installation leads to a significant increase of the machining quality so the surface quality of the final, machined product is much increased within a very short time.

In other production areas such as ceramics industry, final product quality may be worsened due to a presence of black dots that are sometimes so fine that they could not be caught using filtration clothes, so they are manifested as late as on the magnetic separator. The advantage of this covered magnetic grate type consists mainly in a possibility of situating it into various inflow and flowing gutters that is enabled by their significant resistance against humidity.

Operational costs saving

Similarly to the final product quality, covered grate installation impacts also onto a significant reduction of operational costs in relation to machining tool grinding. Based on the operational tests carried out by multi-national companies spending a lot of money on grinding every month, the savings were amounted in a demonstrable way, by a monthly costs reduction by tens of %.
Technical solution
Magnetic pipes of a covered magnetic grate are mostly designed into a "grate-type" assembly and, as a standard, they are manufactured using 1.4301 / AISI 304 stainless steel. In case the covered magnetic grate installation has to be applied in an aggressive material, we can supply you the option manufactured using 1.4404 / AISI 316L material.
Due to a very thin covering pipe wall, machined down to the thickness of 0.6 mm, we reach a very high magnetic force on its surface. As a standard covering pipe diameter, even 31.0 mm is considered. As a standard, magnetic pipe load-bearing elements are manufactured using flat materials with the thickness of 4 mm. Covering extensions are standardly available in the thicknesses ranging from 2 to 3 mm.
Today we are only using very strong permanent neodymium (NdFeB) magnets providing – due to their unique force that is the highest one amongst permanent magnets – reliable catching and – mainly – subsequent holding (fixation) of metal impurities on a covering pipe.  Ferrite magnets used previously are almost no more used in this type of separation.
These permanent neodymium magnets are installed into a covering, stainless steel pipe. As a standard, today we offer 
6 magnetic induction levels
, i.e. the levels of the magnetic force, as a function of a type of environment into which the covered grate is situated. Some levels are characterized by a higher gripping force whereas others are typical with higher magnetic field values – 
find out more about the magnetic parameters
.
Main benefits of MRZ covered magnetic grates
Maximum resistance against humidity
During the entire utilization time, the magnets including cleaning are protected which prevents their damaging
High magnetic induction – up to 6 magnetic and tear-off force levels = very high magnetic separation efficiency in comparison with commonly used grates including ferrite magnets
Very comfortable, fast and SAFE magnetic pipe cleaning
MRZ general technical specification
Magnetic equipment
Very strong NdFeB magnets, in covering pipes
As a standard: ring-type magnet with outer Ø= 29 mm, outer pipe Ø= 31-32 mm
Magnetic material temperature resistance
As a standard: up to 80 ˚C
As an option: up to 150 ˚C (or even higher)
Magnetic output
Grate system
Stationary covering stainless steel pipes, pull-out magnetic cores
Grate and covering pipe material
As a standard: stainless steel 1.4301 / AISI 304.
As an option: stainless steel 1.4404 / AISI 316L
All materials are certified in a quality corresponding to respective EU norms.
Surface treatments
Grate frame: machine-blasted using a ceramics compound
Outer pipe surface: machine-blasted, or polished as an option
Engineering workmanship
All engineering workmanship operations are carried out using machines belonging to own MAGSY CZ manufacturing equipment, using own MAGSY CZ engineering technology.
Component welds
They are performed according to requirements of technological standards valid in stainless steel material welding. Demanding outgoing weld quality inspection guarantees a high outgoing product quality.
Cleaning system
Magnetic cores are permanently secured and protected against humidity. This applies even during cleaning of these covered magnetic grates.
After releasing the safety clip, using the handrail, pull the magnetic cores up to the upper part of the covered magnetic separator
This way the lower part – stainless steel covering pipes – become demagnetized. Metals fall out (due to natural characteristics of metal impurities being caught by these types of magnetic separators). They even assume characteristics of a slimy mud – in most cases, these impurities must be rinsed with water.
Push the cores back to the stainless steel pipes; this way, they become magnetized again.
Ask us – we will advise you!
Made-to-measure production is our strength.