Double-level magnetic grate situated within a pipeline, in packing line end – DMRP
Double-level magnetic grate situated within a pipeline, in packing line end – DMRP
The device serves to the final checking separation of very small metal impurities from loose, dry mixtures. Magnetic rods are situated in two parallel lines, making thus a dropping labyrinth filling the entire pipeline profile. Using a bayonet threading, magnetic grate is inserted into the pipeline with the diameter of 300 mm.
To release the magnetic grate from the pipeline, turn it and pull it out. This grate is designed for the vertical material flow.
Send us your written request regarding separator quotation
More detailed information
Size models:
As a standard, we manufacture this grate for pipelines with the diameter of 300 mm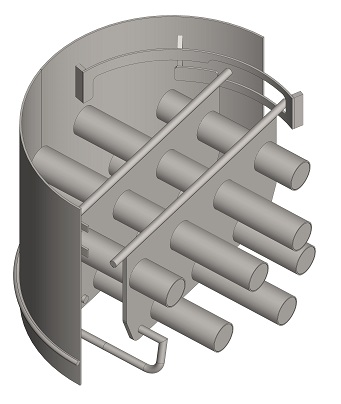 Installation
Weld the upper part of the pipeline to the pipeline ending. Using a quick-acting clip, on the lower part of the pipeline where the magnetic grate is situated, attach a large-volume for cleaned material packing.
Magnetic rods – the main benefits
Sufficient magnetic output for the testing of magnetic impurities
Possibility of using with dry mixtures
High separation level – the strongest NdFeB magnets are used; magnetic force loss is reduced due to a precise machining of the magnetic rod covering pipe, to the thickness of 0.6 – 0.7 mm at maximum.
To the pipeline end, a large-volume bag may be attached quite simply.
Magnetic rods – industrial utilization areas

í
Using in dry materials
In general, magnetic grates may be used in all industrial areas where dry, homogeneous materials are to be cleaned, or dry material mixtures in small to very fine fractions with good loose parameters need to pass through the process
Grates consisting of magnetic rods are not suitable to be used with abrasive matters because the rod wall is machined to a small thickness so it may become worn out very soon. Adhesive materials are not suitable neither. The grates formed by rods are usually stationary, i.e. there is a risk of grate clogging due to so called material "arching".
Utilization areas
Agricultural product industry, feeding mixtures, food industry
Production of building matters, ceramics and porcelain manufacturing, chemical industry
Plastics and rubber processing industry, and other industrial areas where dry materials with good loose characteristics are processe.
Magnetic grate general technical specification
Magnetic equipment
Very strong NdFeB magnets
Magnetic core Ø= 29 mm,
Covering pipes Ø=30 mm
Temperature resistance of the magnetic material: up to 80˚C as a standard
As an option: up to 120˚C  (or, possibly, even higher temperatures)
Magnetic output
Grate system
Magnetic core is closed in a rod; the core cannot be pulled out
Dropping labyrinth
Magnetic grates form a double-level dropping labyrinth (4+3). The upper row, consisting of four rods, is characterized by the outer rod spacing of 65.3 mm and the inner rod spacing of 69.4 mm. The lower rod row has a unified spacing of 66 mm. The height-defined distance between both of the rod rows is 69 mm.
Rod design
Closed rod, rod wall is machined to the thickness of 0.6 mm at maximum.
Grate cleaning technique
This magnetic grate only consists of closed magnetic rods, not pipes with cores disposing of pulling capability. Magnetic rod cleaning is performed manually, by wiping Fe impurities off the rod surface.
Magnetic grates require regular manual cleaning from the magnetic impurities. The cleaning frequency cannot be stipulated generally. It always depends on the size of Fe impurity portion in the medium in question. Grate cleaning interval must be adjusted to that value because each excessive impurity deposit on the grate rods reduces significantly the separation efficiency.  Because of that, magnetic grates are recommended for using in discontinuous operations only, where regular, sufficiently frequent grate rod manual cleaning can be provided.
Rod material
As a standard: stainless steel 1.4404 / AISI 316
All materials in the quality according to respective EU standards, with appropriate certifications
Surface treatment
Outer rod surface is treated by polishing
Grate attachment within a pipeline
The grate design allows for its fast assembling and disassembling, by inserting into the bayonet groove, and rotating (securing) of the working position.
Connecting elements
The pipe to be welded, or JACOB clips
Engineering workmanship
All engineering workmanship and machining operations are carried out using machines belonging to own MAGSY manufacturing equipment, using own engineering technology, own MAGSY CZ machines belonging to a modern MAGSY CZ machinery park.
Component welds
They are performed according to requirements of technological standards valid in stainless steel material welding. Demanding outgoing weld quality inspection guarantees a high outgoing product quality.
Ask us – we will advise you!
Made-to-measure production is our strength.