MAGNETIC BROOM – SWEEPER FOR CLEANING CARRIERS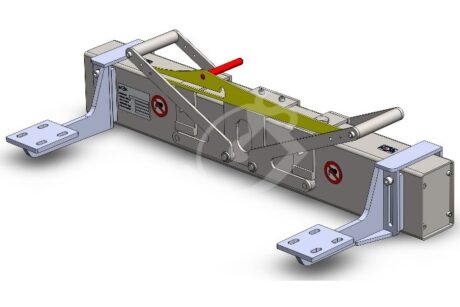 MAGNETIC BROOM – SWEEPER FOR CLEANING CARRIERS
Magnetic broom (magnetic sweeper) MM 800 F for cleaning carriers This magnetic broom serves to the collection of metal impurities (metal shavings, nails, grinding dust), mostly in extensive areas (e.g. production halls). It can be easily installed onto the cleaning carrier (into its front or rear part) or, possibly, onto forklift trucks. How the broom can […]
Send us your written request regarding separator quotation
More detailed information
Magnetic broom (magnetic sweeper) MM 800 F for cleaning carriers
This magnetic broom serves to the collection of metal impurities (metal shavings, nails, grinding dust), mostly in extensive areas (e.g. production halls). It can be easily installed onto the cleaning carrier (into its front or rear part) or, possibly, onto forklift trucks.
How the broom can be cleaned?
Demagnetize the broom by lifting both of the levers; caught metal particles fall off easily.
Magnetic broom (magnetic sweeper) benefits
Easy handling
Easy cleaning – lever mechanism
Variable magnetic area width
Stainless steel design
High resistance
Miscellaneous metal waste – collection tests
MM 800 F
51712
Distance from the surface

30 mm
50 mm
80 mm
Lifted object
Collection success rate
Small office clip (0,3 g)
100 %
100 %
80 %
Steel splinter (1,4 g)
100 %
100 %
0 %
Self-tapping screw 4×60 (2,8 g)
100 %
100 %
70 %
Self-tapping screw 5×80 (6 g)
100 %
100 %
40 %
Pad 5 (0,3 g)
100 %
100 %
0 %
Pad 8 (1,5 g)
100 %
90 %
0 %
Pad 10 (2,9 g)
100 %
90 %
0 %
Nut M5 (1,1 g)
100 %
30 %
0 %
Nut M8 (4,6 g)
100 %
10 %
0 %
Nut M10 (10 g)
100 %
10 %
0 %
Screw M6x10 (4 g)
100 %
10 %
0 %
Screw M8x20 (11,8 g)
100 %
50 %
0 %
Screw M10x55 (37,4 g)
100 %
60 %
0 %