MAGNETIC BROOMS – MAGNETIC SWEEPERS FOR FORKLIFT TRUCKS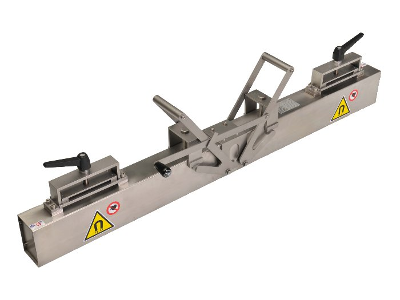 MAGNETIC BROOMS – MAGNETIC SWEEPERS FOR FORKLIFT TRUCKS
Magnetic broom for the forklift truck MM 1200 DM – UP This magnetic broom is, in comparison with the model MM 1200 DM, made of a stainless steelso it has a higher resistance, it is more comfortable to de-magnetize and easier method of fixation onto a forklift truck. From a viewpoint of magnetic efficiency, both brooms are […]
Send us your written request regarding separator quotation
More detailed information
Magnetic broom for the forklift truck MM 1200 DM – UP
This magnetic broom is, in comparison with the model MM 1200 DM, made of a stainless steelso it has a higher resistance, it is more comfortable to de-magnetize and easier method of fixation onto a forklift truck. From a viewpoint of magnetic efficiency, both brooms are identical.
How the broom (sweeper) can be cleaned?
By lifting up of both levers the broom is de-magnetized so caught metal particles fall off.
Benefits
Easy handling
Simple cleaning – lever mechanism
Magnetic area width: 1200 mm
Stainless-steel version
Easy fixation onto forklift trucks
Both brooms (sweepers) can be adapted to a desired length based on the forklift truck type.
Miscellaneous metal waste – collection tests
MM 1200 DM-UP
50015
Distance from the surface

30 mm
50 mm
80 mm
Lifted object
Collection success rate
Small office clip (0,3 g)
100 %
100 %
80 %
Steel splinter (1,4 g)
100 %
100 %
0 %
Self-tapping screw 4×60 (2,8 g)
100 %
100 %
70 %
Self-tapping screw 5×80 (6 g)
100 %
100 %
40 %
Pad 5 (0,3 g)
100 %
100 %
0 %
Pad 8 (1,5 g)
100 %
90 %
0 %
Pad 10 (2,9 g)
100 %
90 %
0 %
Nut M5 (1,1 g)
100 %
30 %
0 %
Nut M8 (4,6 g)
100 %
10 %
0 %
Nut M10 (10 g)
100 %
10 %
0 %
Screw M6x10 (4 g)
100 %
10 %
0 %
Screw M8x20 (11,8 g)
100 %
50 %
0 %
Screw M10x55 (37,4 g)
100 %
60 %
0 %