Magnetic door MDV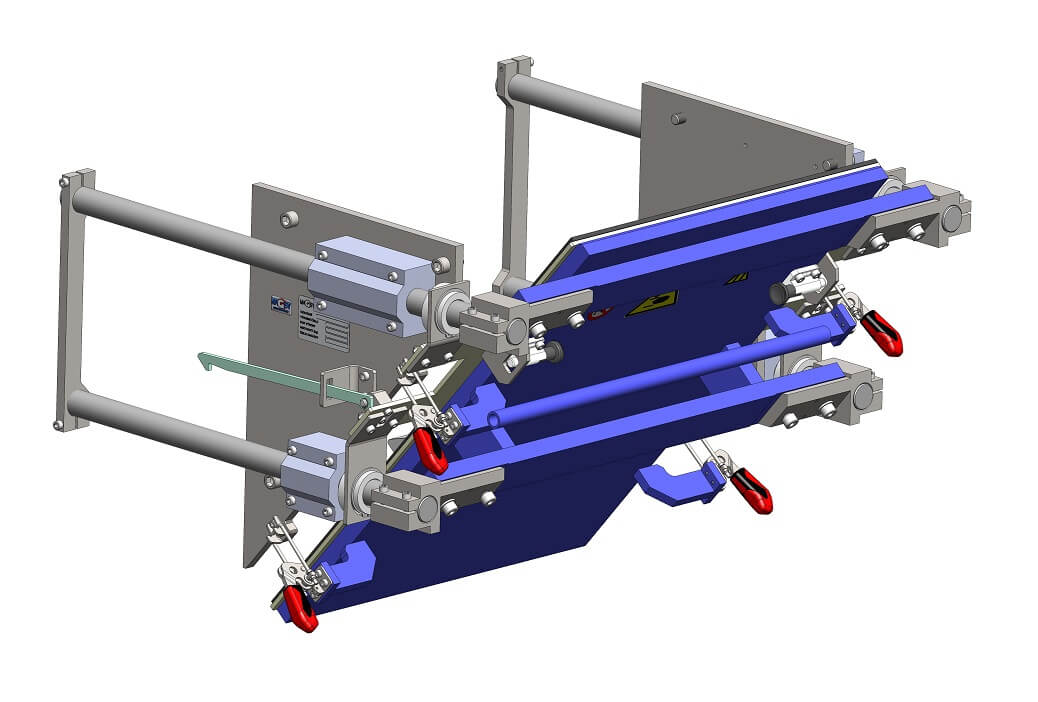 Magnetic door MDV
MDV magnetic door is a manually cleaned dry-mixture separator suitable for applications where huge material quantities need to be separated. It is also suitable for a separation from abrasive products.
Send us your written request regarding separator quotation
More detailed information
Size models and the separator design
MD is manufactured in a way that it may be installed into pipelines with an inclination. It may also be installed behind the returning drum of the conveyor, in a way that separated material falls to the door where metal impurities remain caught.
MDV standardly manufactured models and sizes:
At present we do not have any compact product series – separators are always manufactured according to customer requirements that also applies to larger sizes (500×500 mm, 800×500 mm)
MDV separator main benefits:
Separation from hardly permeable materials tending to arching
Separation from abrasive materials
The separator is equipped with very strong neodymium magnets
It may also be installed on places where – due to high quantities of the separated material – it is not possible to use MSP type separators
It enables a separation of even bigger ferromagnetic impurities (screws, nails, …)
Attention is paid to an extraordinary working safety – magnets are firmly connected to the separator body
Magnets are covered by a stainless steel sheet metal – the magnets are not in a direct contact with the separated material
The door is equipped with a "nose" protecting the metal particles caught against getting back to the separated material
High engineering workmanship quality – only the best materials are used, there is a high engineering precision, resistance, durability and assembling readiness
User friendly cleaning system – see below in the separate section
MDV general technical specification
Magnetic equipment
Very strong NdFeB magnets (due to their big weight, ferrite magnets are not used)
Magnetic material temperature resistance
As a standard: up to 80 ˚C
As an option: up to 150 ˚C
Magnetic output
neodymium NdFeB magnets: 6000 – 7000 G
Separator cleaning
Separator cleaning is performed when the material flow is stopped
This separator is equipped with a linear guidance designed in a way that, in spite of the fact of large magnetic door dimensions, an easy and safe pulling out is enabled. After the door is pulled out, in the next step, the magnets are pulled out of the covering stainless steel case. This way, the magnetic door becomes de-magnetized so all metals caught fall off. Manual cleaning of the metal impurities is thus eliminated and operator hand injuries by e.g. finger catching between the magnetic door and metal impurity, is prevented.
Material
As a standard: stainless steel 1.4301 / AISI 304.
As an option:  stainless steel 1.4404 / AISI 316L (for acidic pH environments)
Surface treatment
Ask us – we will advise you!
Made-to-measure production is our strength.