TOW BEHIND MAGNETIC SWEEPER FOR THE AIRPORT AND EXTENSIVE AREAS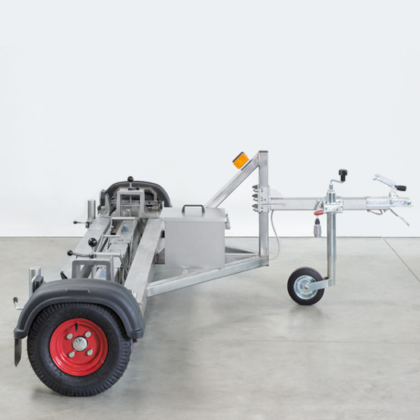 TOW BEHIND MAGNETIC SWEEPER FOR THE AIRPORT AND EXTENSIVE AREAS
Magnetic broom (magnetic sweeper) for extensive areas, the width 3000 mm This magnetic broom serves to a collection of the metal impurities (metal shavings, nails, metal brush bristles) from the airport areas. The broom can be easily connected behind a car equipped with a towing element. When using the magnetic broom, occurrence of undesirable metal objects on the […]
Send us your written request regarding separator quotation
More detailed information
Magnetic broom (magnetic sweeper) for extensive areas, the width 3000 mm
This magnetic broom serves to a collection of the metal impurities (metal shavings, nails, metal brush bristles) from the airport areas. The broom can be easily connected behind a car equipped with a towing element. When using the magnetic broom, occurrence of undesirable metal objects on the airport area can be reduced, increasing thus the overall airport safety. Magnetic broom is equipped with very strong neodymium magnets.
Magnetic broom (magnetic sweeper) benefits
Fast area cleaning, limitation of defects and injuries
Time saving, perfect working efficiency
Easy handling
Simple cleaning – lever mechanism
Magnetic area width 3000 mm – by request, another length can be manufactured
Stainless steel design
High resistance
Airport area cleaning
Magnetic broom (magnetic sweeper) for extensive areas, the width 9000 mm
This magnetic broom consists of the three independent carts connected to a single unit. The main cart is characterized by the height-adjustable carriage shaft in the range of 280-480 mm from a road; two connected carts have a firm carriage shaft. Clear height of all carts is 120 mm.  The broom is height-adjustable in the range 40-120 mm above a road, and it is equipped with plastics gliders protecting it against a contact with a road. The carts have height-adjustable moving wheels serving to facilitate connection and handling operations.
Cart connecting to a set
Main cart is equipped with telescopic arms; their sliding out length is ca 1200 mm. On the ends of the arms, there are balls serving to side carts connecting. All except the carriage shaft is adjustable without a need to use tooling.
The carts can be interconnected next to each other (maximum width is 9480 mm), or one behind another (in case of traveling or another manipulation, the width is 3680 mm).
Whole set weight is ca 790 kg. The carts are equipped with LED lamps and warning identification (stickers).
Usage examples
Runways, travel lanes and airport gates
Extensive parking lots
Car and motorcycle circuits
Industrial areas and premises
Logistic centers
Airport area cleaning