Double-sided magnetic separator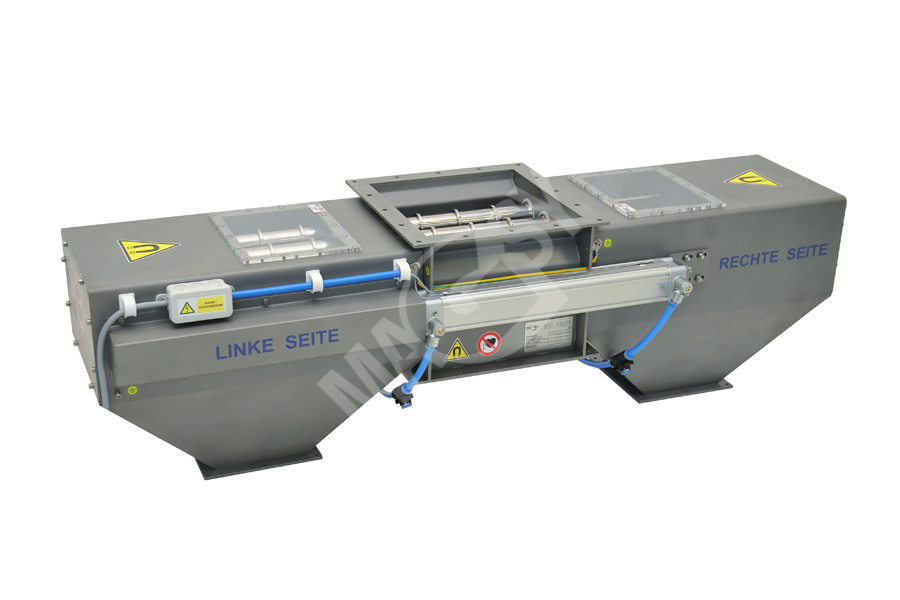 Double-sided magnetic separator
Magnetic separator for dry mixtures, characterized by an automatic cleaning, serves to a separation of very small metal impurities of the size of up to 5 mm. As a standard, we manufacture three general dimensional types of the incoming hole: 250 x 250, 400 x 400 and 500 x 500 mm, with the capacity of up to 150 t/h. We can prepare the incoming holes as made-to-measure ones, according to customer requirements, using various transition elements. Another great advantage consists in a small construction height. Magnetic separation system is very efficient due to a sophisticated dropping labyrinth of the magnetic rods, situated in two rows (by request, we can prepare even more rows).
Send us your written request regarding separator quotation
More detailed information
This magnetic separator of metal particles is designed for operations characterized by continuous cleaning. This means that during the automatic cleaning cycle, material flow does not have to be interrupted.
Cleaning system
Material falls through the central part of the magnetic separator (see the below animation). During the automatic cleaning process, stainless covering pipes move to the side hopper (left or right) where de-magnetizing takes place and ferromagnetic metals caught fall off. Magnetic cores still remain in the central part (only stainless steel covering pipes are moving) so the system is suitable for continuous operations. Due to that, metal separation runs also in cases of power supply or pressurized air malfunctions (however, in this case it is necessary to check the quantity of metals caught on the magnetic pipes after the supply restoring).
Cleaning time interval is simply adjusted on the color display with a touchscreen by a customer, in the range of 1 minute to 90 minutes, according to the volume of metal impurities caught.
During this magnetic filter production, materials and components with a high quality are used, e.g. pneumatic drums FESTO and PLC Siemens. Magnetic separator is designed completely in the stainless steel 1.4301 /AISI 304/ material and, due to that, it is suitable especially for food industry applications.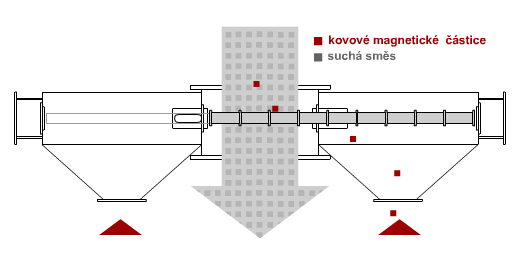 Industrial areas of utilization
In practice, this magnetic separator may be used in all industrial areas where big quantities of small metal impurities must be separated from dry materials with good loose characteristics, and where there is a need of the manufacturing process automating, saving thus manufacturing costs.
Separator safety and quality information
We care about the high quality of our magnetic separators
Utilization areas
Food industry – production of dry mixtures and crystalline materials
Chemical industry – building matter processing, production of absorption materials, ceramics and porcelain
Plastics industry – checking and processing of granulated compounds
This magnetic separator is also suitable for slightly abrasive materials (in case the stainless steel covering pipe is torn through, it may be replaced easily).
In case of materials with compromised loose characteristics and, especially, in materials tending to arching (clogging), we recommend using of other types of separators (plate-type magnetic separator, rotational magnetic separator) or, possibly, you may contact us. Our specialists will recommend you a suitable magnetic separator type.
The production of all of our magnetic separators is per your order. Great effort is put to a precise and quality workmanship, in order to provide the final separation with really good quality.
Our service department may provide our services as turnkey projects if you order them so = initial study, installation, putting into operation and operator training.
Ask us – we will advise you!
Made-to-measure production is our strength.