Plate-type magnetic separator MSP – UP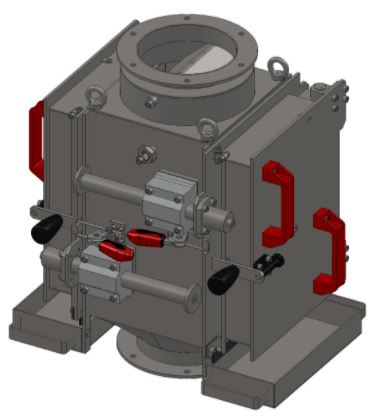 Plate-type magnetic separator MSP – UP
MSP – UP plate-type magnetic separator is a manually cleaned separator designed for dry mixtures characterized by compromised loose (bulk) parameters – with a comfortable and safe cleaning system.
Send us your written request regarding separator quotation
More detailed information
Size models and the separator design
MSP-UP is manufactured either for a connecting to round, or square pipelines.
MSP-Classic standardly manufactured models and sizes:
For round pipelines with the diameters: 100; 150; 200; 250; 300 mm
For square pipelines with the dimensions: 100×100; 150×150; 200×200; 250×250; 300×300 mm
MSP – UP separator main benefits
Separation from hardly permeable materials tending to arching
Separation from abrasive materials
Possibility of equipping with both ferrite and very strong neodymium NdFeB magnets aimed at reaching the maximum magnetic separation level
Magnetic field with four or seven magnetic circuits
It enables a separation of even larger-scale ferromagnetic impurities (screws, nails, …)
Adjustable drawing-apart roof (easily removable when needed)
Big attention is paid to the working safety – the magnets are firmly connected to the separator body
Magnets located on the door are covered by a stainless steel sheet metal – the magnets are not in a direct contact with the separated material
Separator side walls are equipped with a small transparent window enabling an easy control of the quantity of impurities caught
The door is equipped with a "nose" protecting the metal particles caught against getting back to the separated material
High engineering workmanship level – the best materials are used, engineering workmanship is characterized by a high precision, high resistance, durability and assembling readiness
User-friendly cleaning system – see below, in a separate section
ZMSP-UP general technical specification
Magnetic equipment
Ferrite or very strong NdFeB magnets
Magnetic material temperature resistance
As a standard: up to 80 ˚C
As an option: up to 150 ˚C
Magnetic output
ferrite magnets: 2000 – 2500 G
neodymium NdFeB magnets: 6000 – 7000 G
Separator cleaning
Separator cleaning is performed when the material flow is stopped
Magnetic door is equipped with a linear guidance. Due to that, the sliding is very easy, comfortable and safe. After the door sliding, in the second step, magnets are pulled out of the stainless steel covering case. This way the device becomes de-magnetized and all metals caught fall down to a cup prepared in advance (a part of the separator). Manual removal of the caught impurities is, therefore, not needed anymore. A possibility of operator hand injuries (e.g. by catching of the fingers between the magnetic door and metal impurities) is eliminated. After spilling the impurities out of the cup, it is possible to close the door again; the separator is ready for another separation.  Cleaning principle is displayed below, see the animation.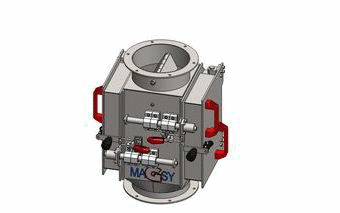 Smooth surface finish of the magnetic plate
In very rare cases, especially in dusty environments, it may happen that very small metal particles (dust, sawdust, etc.) catch on the magnetic plate during the cleaning operation. Therefore, we offer a magnetic plate with a very smooth surface finish where all joints are smoothened, for an easy wiping off such impurities.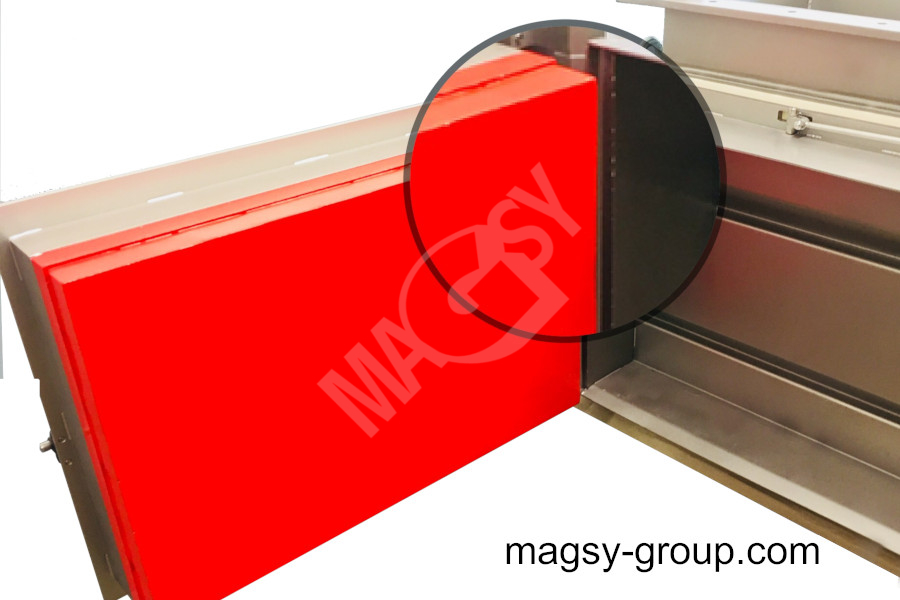 In case the separator is equipped with very strong neodymium magnets, the doors are attracted to each other with a big force (especially in separators with the incoming DN 100, 150). In such cases, an improved door opening system is installed. This will provide the door will not close spontaneously. Working safety is really good!
Material
As a standard: stainless steel 1.4301 / AISI 304.
As an option:  stainless steel 1.4404 / AISI 316L (for acidic pH environments)
Door sealing material
As a standard: rubber sealing in a quality corresponding to the separation task and operational conditions
As an option:  food industry sealing conforming to food industry standards
All materials are quality-certified according to EU norms.
Surface treatment
Machine blasting – for the food industry, the corners and welds inside of the case are machined according to food industry norms (as an option).
As an option, the product may also be supplied in the polished version
Connecting elements
As a standard: flange according to corresponding pipeline dimensions
Or optionally: JACOB clip according to corresponding pipeline dimensions
Counter-flanges are parts of the product. Other connecting elements (e.g. "smooth pipe") are, as non-standard versions, possible as an option.
Engineering workmanship
All engineering workmanship operations are carried out on machines belonging to the company production facility, using own MAGSY CZ engineering technologies.
Component welds
They are performed according to requirements of valid technological norms dealing with stainless steel material welding. Demanding outgoing weld quality control guarantees a high outgoing production quality.
Ask us – we will advise you!
Made-to-measure production is our strength.